Provincial Point of View
October 18, 2016
Another busy week in Saskatchewan!
MERLIS BELSHER PLACE ANNOUNCED!
Belsher's gift is the largest donation from an alumnus and individual in the university's history!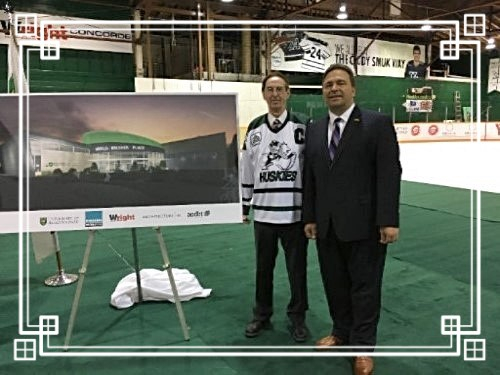 It was indeed an exciting day as many gathered in the existing home of Huskie men's and women's hockey, Rutherford Rink October 13. I was pleased to join University officials, alumni, hockey aficionados, Huskie athletes and minor hockey representatives as plans were announced for the new twin-ice facility to be built on the University of Saskatchewan campus near the Saskatoon Field House.
Saskatoon Willowgrove constituent Merlis Belsher announced a $12.25 million donation to the proposed new arena. The donation is the largest received from an alumnus and individual in university's history. Merlis Belsher is an accomplished accountant, lawyer, entrepreneur and philanthropist. For as long as I have known Merlis, he has given back to this community. His generousity and passion for people, this city and province is a true reflection of his character.
"Sports are inextricably interwoven with education," he said. "Sports keep young kids off the streets, and get them involved in community." said Belsher.
Built in 1929 and affectionately called the "Dog House", Rutherford Rink has fallen well below the standard of quality required for a competitive university athletic program. Student intramural and community-based programs and teams also experience challenges with the outdated facility. Although renovated numerous times, it has been clear for many years that Rutherford is beyond repair.
Belsher was honoured to kick off the campaign with his unprecedented contribution to his alma mater while hoping others will consider contributing to the $7.3 M still needed for the Home Ice Campaign. The announcement marked the public launch of the Home Ice Campaign which will look to the community for additional financial support. To make a donation to the Home Ice Campaign, click here.
"I made this donation because of my gratitude for the University of Saskatchewan—it provided me with confidence and education in two professions," he said. "That was my doorway to a satisfying career in the manufacturing industry."
The new ice facility will be called Merlis Belsher Place in honour of the historic donation.
To read more about the facility and the opening of Merlis Belsher Place, click here. I encourage you to read more about the life of Merlis Belsher by clicking here.