Provincial Point of View
July 28, 2015
a great Saskatchewan summer!
THE SASKATCHEWAN RUSH!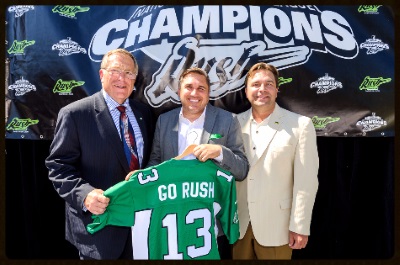 Pictured with me are Mayor Atchison Bruce Urban, Owner of the Saskatchewan Rush. Thank you to Steve Hiscock for the photo.
What a sensational day for Saskatoon and Saskatchewan and for the sport of lacrosse as Bruce Urban announced last week that his National lacrosse league franchise is relocating to Saskatoon and will be known as the Saskatchewan Rush!
On behalf of Premier Brad Wall and the government of Saskatchewan, it was a pleasure to welcome and wish the Saskatchewan Rush success in their new home. It's not every day that a professional sports franchise relocates to Saskatchewan. It was thrilling to help celebrate another example of growth and confidence in this city and our province. It's "a Rush from Alberta to Saskatchewan."
The Saskatchewan Rush will be bringing the best professional lacrosse in the world to Saskatoon and they are enthusiastic about what is to come as they defend the National Lacrosse League Championship.
This announcement is fantastic news for fans, supporters and players of the increasingly popular sport of lacrosse. There is no doubt our entire province will show strong support for the Rush as they look to repeat as National Lacrosse League Champions!
The Saskatchewan Rush lineup is stacked with some of professional lacrosse's most talented players along with one of the best coaches in the game. The players are excited and committed to building a passionate group of followers throughout our province.